Friends, family and colleagues may need some or all of your travel plans for any given trip. This information may include flight time updates, gate assignments/re-assignments and baggage claim information.

Email updates can be sent to loved ones and colleagues by adding them to your trip using the Share tool.

On Web:
Open a trip and click on the Share Itinerary option at the top of the screen:


Then, add the email address of the people you want to share your trip information with. Click Add.
Next, you can choose to Share Itinerary and/or select the specific segments that your follower will receive updates regarding.

On Mobile:
Open the menu and select Share.
Type in the email address of the person you wish to receive your trip information. You may also choose from a contact that you have previously added.
Click on Add and you will get the option to Share Itinerary with that email address. You will also get the option to choose which flight updates your follower will receive.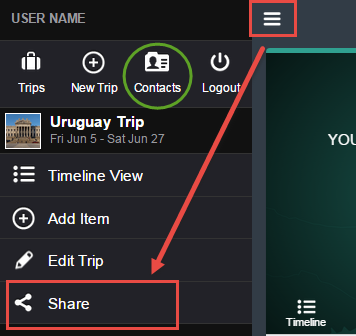 For additional info regarding this feature, please check This Link
To stop sharing your trip, see This Link